Mild cases of condensation in Manchester will often yield to simple changes in the heating and ventilation regime in the dwelling or to cosmetic treatments of redecoration, perhaps with fungicidal paint. More severe cases will usually require improvements to thermal insulation, greater heat inputs and a reappraisal of ventilation of the actual dwelling.
Condensation as the name suggests is water which has 'condensed' from warm, moist air on contact with a cold surface. In recent years the incidence of condensation in buildings has risen from a level of comparative insignificance to become a major domestic problem. The increase can be attributed to changes in design of living accommodation and in the lifestyle of the occupants.
How Condensation occurs
Condensation is chiefly a winter problem. The external air temperature is low and external walls and windows are cold. When cold air enters the building, the air is warmed for the comfort of the occupants, the warm air takes up moisture, the warm, moist air comes into contact with cold surfaces, walls, windows etc. and is cooled below its Dew Point and Condensation occurs as the excess moisture is released. Intermittent heating and cooling of the property can aggravate condensation problems, since it allows external walls to remain cold and act as condensation points for damp air.
Excluding heating it is estimated that a family of 4 with associated cooking, laundering, etc. will generate almost 14 litres of water a day. This water, in the form of water vapour, must be absorbed by the air in the house or deposited out as condensation if corrective action is not taken.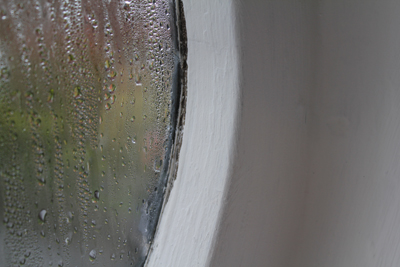 Condensation Treatments For Homeowners in Manchester
Our expert damp proofing team can carry out a detailed examination of the property and recommend a course of action to alleviate condensation in your Manchester home.
This may include
treatment with biocides and stain block paints to eradicate mould spores,
Increased ventilation to improve air circulation.
Increased insulation which brings internal surface temperatures closer to the air temperature in the dwelling and thereby lessens the risk of the surfaces falling below the dew point
Contact Manchester Damp Proofing
For more information or a free quotation for treatments pertaining to condensation in Manchester or throughout the North West please contact our trusted team today. Or learn more about our services here.