Great care should be taken that spores are not transmitted from infected sites to unaffected areas and a simple precaution is to use a disinfectant wipe on shoes after leaving a suspected area.
Identifying Dry Rot in Your Manchester Home
Found in older properties or sometimes in newer properties where penetrating dampness occurs.
Dry rot is distinguishable by it appearance  and its effect on timber when effected.
The effected timbers will resemble a burnt timber in appearance and will simply disintegrate when disturbed. The fungus itself will spread over the effected area resembling a spiders web with strands of white protruding from the centre.. The spores once established can travel up to  18 metres passing through walls and masonry to find new material to consume.
Dry rot in Manchester is often found on walls behind plasterboards and below floor levels on timber joists.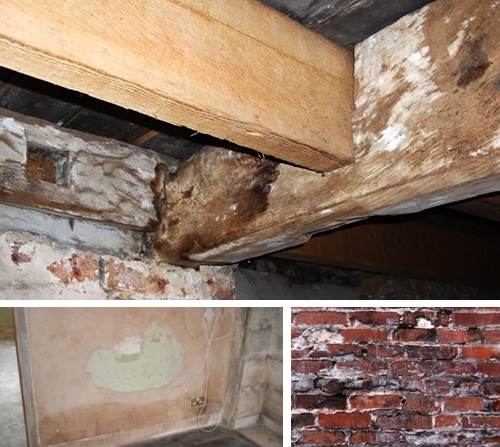 Dry Rot Treatments in Manchester
Stripping continues until there is over 1 metre of clean unaffected material exposed.
All infected materials are carefully bagged in sealed bags before being dispatched to landfill.
The walls/ block work and substrates are then liberally sprayed with an anti fungal spray to eradicate any hidden spores.
Timber joists which need to be re instated are covered at exposed ends in bitumen material before being replaced in their new locations.
All new and the freshly exposed timbers are treated before the works of re instatement can begin.
Walls are re boarded and plastered to a finish before being re painted to a finish.
Contact Manchester Damp Proofing
For a free no obligation survey/ quotation for dry rot treatments in Manchester please contact Manchester damp proofing today. Or you can learn more about our services here.